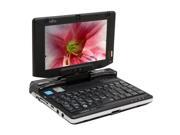 Fujitsu U810 dimensions:
Width 6.73"
Depth 5.2"
Height 1.04-1.26"
Weight 1.56 lbs.
I was thinking maybe the Horizontal Cell in size 7 (interior dimensions of approximately 9.8 × 7.4 × 1.4 in. ) and just adjusting the inside hammock.
Or maybe waiting for the Ristretto. I really love the look of the Ristretto and the fact that I can get an Absolute Strap with it
(the main reason I'm not interested in the cafe bags)
, but my understanding of the Ristretto is that the padded pouch is attached to bag and is therefore, not adjustable.
Any thoughts? Suggestions?
Thanks guys.