I'm not exactly sure when it will happen, but I see myself ordering some Tom Bihn luggage when I get the money. It all depends on what I choose, how much it will cost, and how quickly I can raise the cash for an order.
One thing I'd like to get is a Freudian Slip. I'm 50-50 on what the Slip would go in. It could be a backpack like a Smart Alec, or it could be an expensive item like a Checkpoint Flyer. One thing is for certain: the Slip and bag to put it in will definitely not be enough. I'm also looking for another couple of items that fall into a
je ne sais qois
category. I've uploaded some photos to try to illustrate:
BRIEFCASE
First item is a simple briefcase, far simpler and old-fashioned than anything that is called a "briefcase" in the Bihn product offerings, and also much less expensive. The briefcase I use to haul papers around in has been in my service for years, and is the second one I've gone through. These used to be made locally by a luggage manufacturer that went out of business many years ago.
Above is what the simple briefcase looks like from the outside. Note there are no handles or shoulder straps. It's just a simple enclosure for papers with no external pockets or anything like that; something from a very different time, before anyone seriously thought of business travelers, and terms like "water bottle" and "cup holders" weren't even in anyone's vocabulary.
Observe the briefcase's interior:
Each side has two built-in pockets. The smaller inner-most pocket is for holding pens, pencils, rulers, PostIt notepads, maybe a map or calculator, etc. The outer-most pockets are perfect for holding printed documents or a supply of blank paper for note-taking. The open space in the middle of the bag forms its own wide-open "pocket" where I carry magazines and other printed materials, as well as bulky items like maybe a clipboard when needed.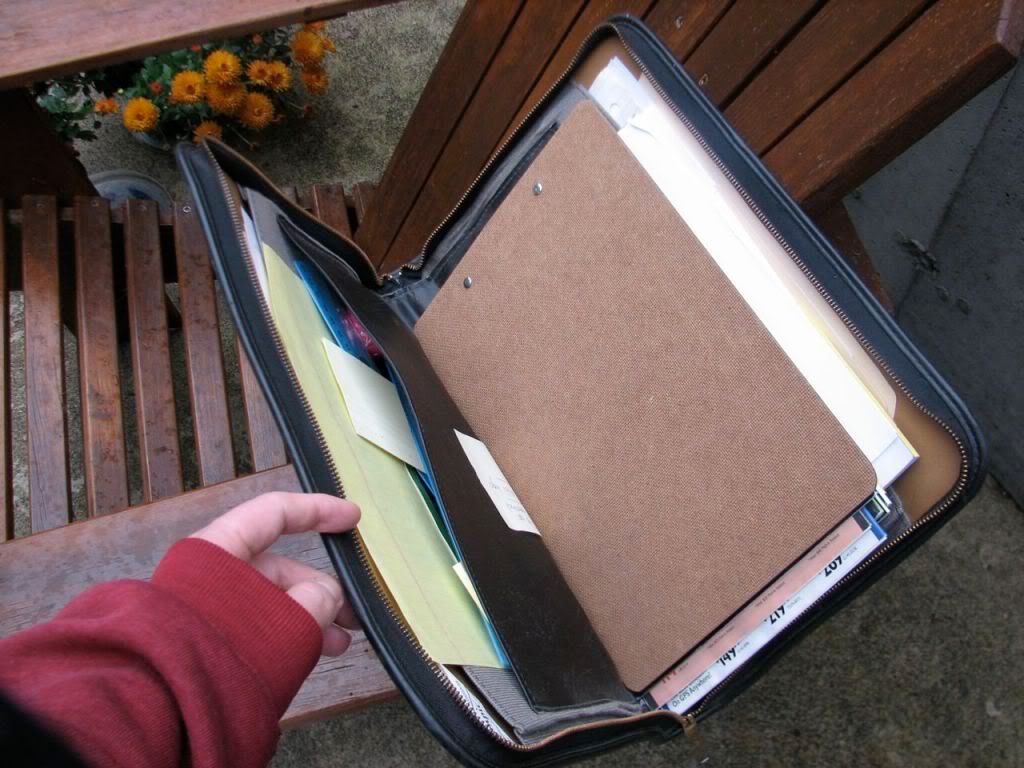 The next item belongs to my mother. I borrowed it today to show you:
It's a notebook of sorts, by not the computerized kind. It's actually an overglorifed folder that she carries things in, like a tablet, magazine articles, handouts, business cards, and maybe pens or pencils.
Here is the notebook's interior:
This notebook measures about 12.75 x 9.75 x about 1 inches, and can swallow a standard Letter-size tablet easily.
Much of what I've displayed here could be solved by using at least one Freudian Slip in a backpack or other TB shoulder bag. But the Slips won't satisfy all of our needs. I'm looking for items of varying sizes that can carry blank papers, one item would be like my mother's "notebook", carrying a Letter-size tablet and other items. But it needs to be sturdier and more versatile than my mother's old "notebook".
NOTE: she also has a fancier zip-shut "notebook", which is much smaller with a notepad insert and pockets for other items. She has it with her today so I couldn't measure it. I'm guessing it's 5 x 8 x 1 inches but I'm not sure. It's higher quality and self-contained.
So the question becomes what kind of standardized refillable paper-hauling appliances are on the market? And would they fit into TB bags like a backpack or a Checkpoint Flyer?
I occasionally peak at this kind of thing at a place like OfficeMax, but that stuff is all foreign-made and cheap, cheap, cheap...
Any clues as to where one can find quality, standardized containers/organizers?