Aeronaut packing list from Cozumel trip
We just returned from a month-long trip to San Miguel de Cozumel, Mexico. On the way back I packed one of our Aeronauts with the clean clothes and got a ridiculous amount in without straining the bag. I thought I would share the packing list.
This is a combination of clothing for me (6'8"), my son (6'3"), and my wife (5'8") so none of the clothing is particularly tiny!
6 L T-Shirts
1 L rash-guard
5 XXL T-Shirts
5 pairs of men's shorts
3 men's swimsuits
1 L men's sweatpants
4 M men's briefs
5 L men's boxers
5 (size undisclosed) women's underwear
1 dress
1 female 1-piece swimsuit
1 pair of men's travel pants (very thin)
2 pairs of women's capri pants
9 pairs of men's socks
3 women's socks
2 women's strap tops
7 women's tops
1 light women's sweater
1 L men's windbreaker
Here it is all spread out on the bed after we unpacked. Sorry it is a bit blurry, but it was almost 2:00am by the time we got home, so *I* was a bit blurry when I took the picture.
All of my son's shirts as well as 2 of mine fit into 1 small packing cube in one of the end-compartments. Rolling is a godsend for traveling light.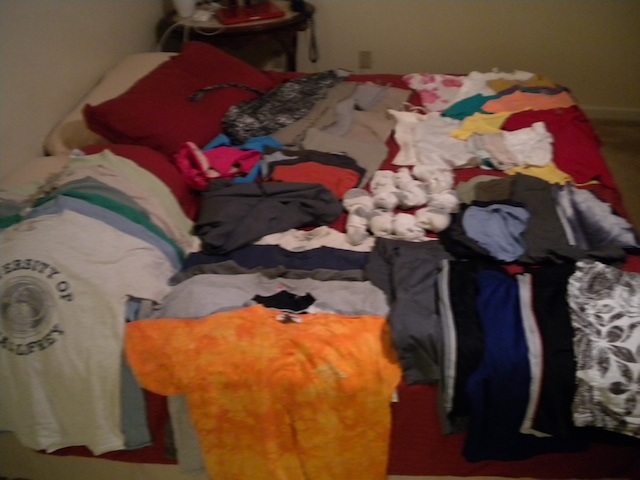 Our other aeronaut wasn't packed quite so full, but contained the shoes and quite a lot of other clothing.