A week may not seem long for most folks, but if you're anxiously waiting for the arrival of a Tom Bihn bag, then that's 5-days too long :D
So anyway, I thought I'd post a couple of photos of the Super Ego first (next to the ID), and post a lengthier review later when me and the bag are better acquainted.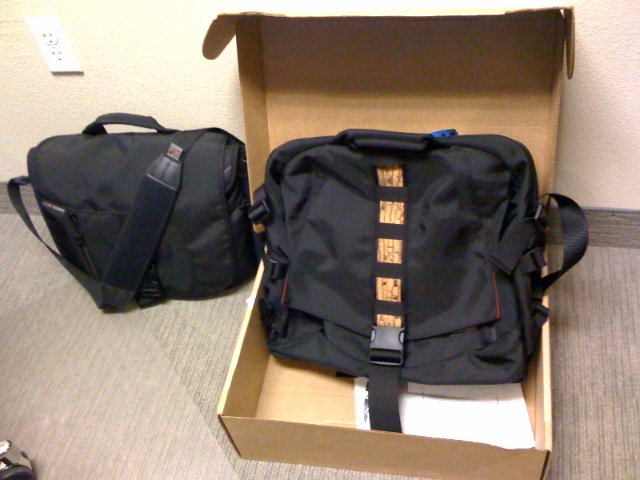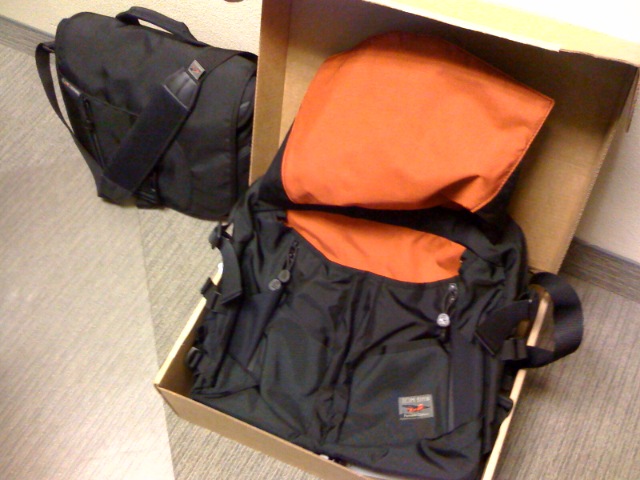 But quickly, from what I gather, the bag has impressive build quality, lots of room, and is not as intimidatingly huge as I feared it would be. It is noticeably bigger than the ID, much like you'd put a side-by-side comparison between a MBP 17 against a MBP 15, that type of ratio. But from an aesthetic point of view, the bag's size shouldn't be feared at all, I am only 5' 9" (albeit on the heavy build side), and the bag doesn't look disproportionate. I ordered mine with the regular strap, but will order the Q-AM shoulder strap soon (Casey convinced me!). For the meantime, I transferred over the Absolute strap from the ID, I don't carry much in terms of heavy loads (just the basics like my MBP 17 laptop and its peripherals, bluetooth mouse and keyboard, a WD Passport drive, a couple of pens, a swiss army mini knife, cables, a PodiumPad laptop cooler, a couple of magazines and paperwork) -- and with the Absolute strap, I have been spoiled to its comforts which I'll then pit against the Q-AM once it arrives. The Super Ego I ordered came in black/black/cayenne partnered with a cork strip. I like how the understated look of black on black is accented by the cork strip, and the splash of color the cayenne (orange-red) brings is just awesome. I'm also ordering another strip, probably reflective or yellow with the seatbelt buckle and also the Size 1 Brain Cell -- I'm currently using the Size 1 Soft Cell which is good enough and doesn't add bulk, but the Brain Cell will probably help me sleep better at night with regards to laptop protection especially when traveling. So yeah, I've gushed on long enough about this new bag, the Super Ego. I don't really have anything negative to say, except maybe for a few wish list add-ons like the supple Ultrasuede-lined pockets and maybe an additional zippered pocket where the flap is (features I found very useful on the ID). But regardless, I was really glad I made the purchase for I think I may have finally found the perfect bag in terms of everything.
PS. If anyone needs more photos comparing the Super Ego and the ID, just let me know.
PSS.
I've read through several reviews that it could be a little bit of a challenge trying to swap out the strips for the Super Ego since the Aplix/Velcro backing catches on. So after experimenting with it a bit, I found that an equally sized flat ruler (I used a thin metal one lying around here at work) slid between the strip and the loops makes removal and repositioning of the strips a lot easier since the velcro doesn't catch onto each other until you slide the ruler out. Ta-da! Ignore this if you already knew
;-P