In another thread, I cover why I went to Washington, DC in March
. My mission was to visit Capitol Hill and accompany Kitty Benzar of the
Western Slope No Fee Coalition
to advocate public recreation on public lands. I'm a recreational trails volunteer.
The trip was educational for me, as there were several things I had never done before:
I had never travelled to the Washington, DC area...
Never taken a laptop computer on an airflight before, and thus never been through TSA security, let alone security checkpoints on Capitol Hill

Never travelled with a full business suit in a garment bag

Never had a brand-new garment bag's zipper fail at 3:30 AM, just before departure for home

Never had to stifle a scream at 3:30 AM before
Here are some of those pictures. Note that I do not yet own any Tom Bihn luggage, so you won't see any in these photos. Also note my use of the word "YET".
First off, Mountain Man does Capitol Hill. If you would've told me I was doing this even a few months beforehand, I would've told you that you were crazy!
The lady standing with me is Kitty Benzar. A very kind stranger snapped the picture for us.
Here I am standing on the steps of the Supreme Court of the United States. Note that in the picture below and above I am carrying a Kensington Saddlebag, which is due to be replaced someday, hopefully sooner rather than later.
Here's a picture of my hotel room:
The item on the bed is my ill-fated foreign-made fold-up garment bag, shown here sprawled open on a bed. I was lucky to get a double room for a deal, one of the bennies of travel in a major economic downturn.
Here is an image from Capitol Hill. This is the palatial Hart Senate Office Building, the newest of three connected Senate office buildings which houses the DC main offices of United States Senators who have the most seniority, including Pennsylvania's own Hon. Arlen Specter.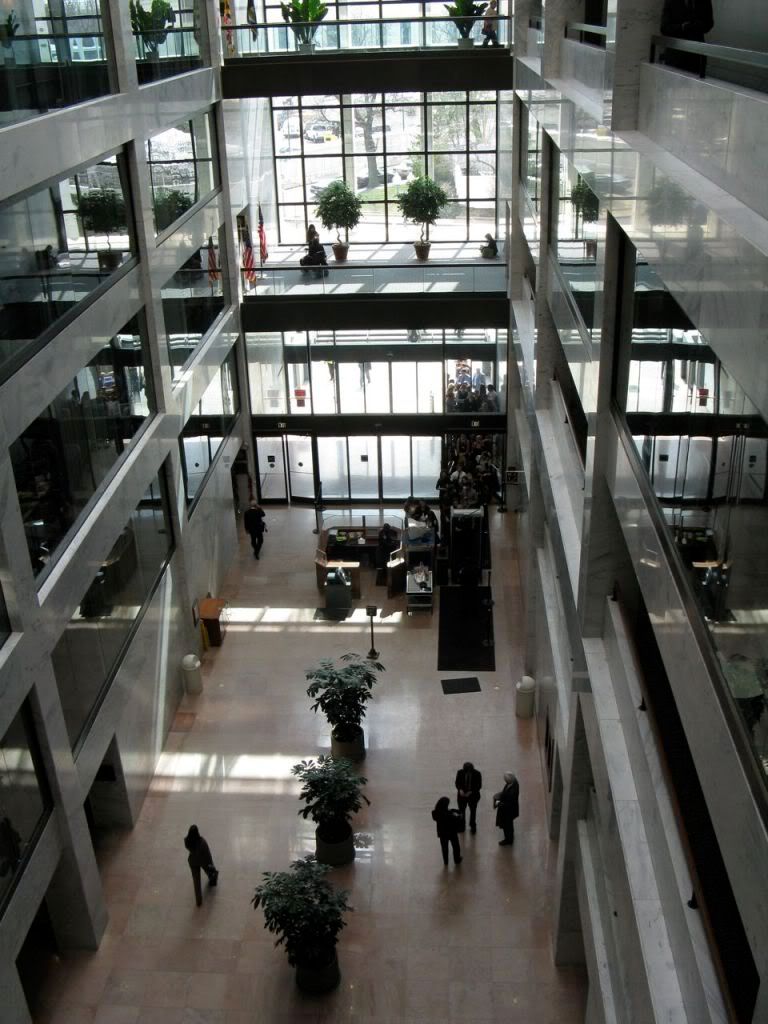 The gathering seen at street level on the lower-right is a security checkpoint manned by armed guards. Their metal detectors and screening procedures tend to be more stringent than TSA's. I had to remove my hat, shoes and belt just to get through their detectors. Whenever you enter or re-enter a Senate or House office building, you must stand in line at a checkpoint before admission to the structure. This means if you choose to leave a building for any reason, you must be prepared to go through the security screening again in order to enter this or any other such facility. Thankfully, there are cafeterias housed within each complex. (House buildings are connected to each other underground just as the Senate buildings are; and cellphone coverage is perfect, even in the connecting tunnels due to built-in cellular "towers" in the buildings... you never have to worry about a dropped call...)
Alright, here's another dorky tourist pose, this time just outside the subway station at the base of Capitol Hill:
And just when you think it could not get any dorkier, here's a picture of the commuter plane I took from Erie to Cleveland, on the way down...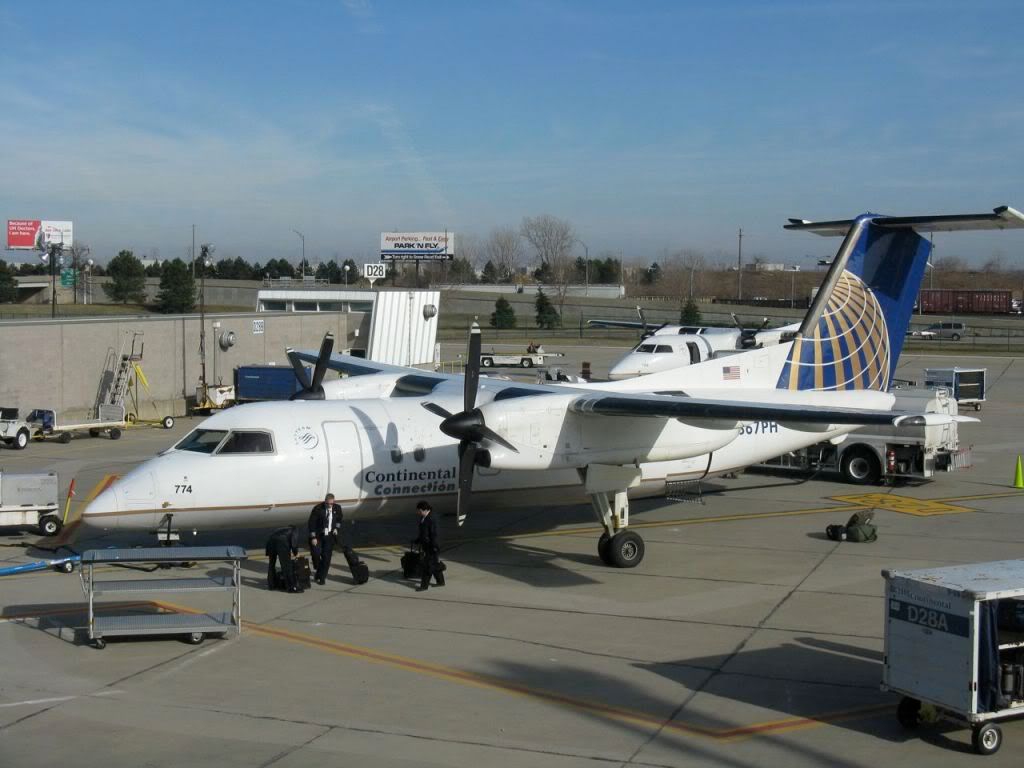 And here a picture of a light jet like the one I took from Cleveland to Baltimore-Washington International:
If I had used all carry-ons, I might've been able to lug everything with me in the passenger compartment for both planes. As it was, this was one of those flights where they make you carry your luggage to the plane, leave the garment bag on a cart outside the plane on the tarmac outiside the terminal before boarding, and pick it up again once you disembark at the next airport. As such, I never had to worry about loosing luggage.