This thread is dedicated to an unusual amalgamation of accessories rather than actual travel luggage or briefcases of the like. It's also unusual because it involves a mixture of merchandise from Tom Bihn,
WaterField SF Designs
, and others.
To wit:
This is an image of a
Tom Bihn Clear Organizer Pouch
, Pen & Pencil Edition. I recently used it on some road work I was doing with a larger carrying case that was not from Tom Bihn. Attached to the Pouch is a TB Key Strap, which came in handy as I was able to use it to hang the pouch from the larger carrying case. Both the Pouch and the Key Strap worked beautifully. Shown here, the Pouch is perched atop my MacBook Pro, loaded with 4 No. #2 Pencils, 2 ordinary (read: skinny) ballpoint pens, a Hi-liter, a small box of paper clips and several accessory pencil eraser-caps.
All of these fit very nicely and I never spilled anything. I plan to purchase more of these Pen & Pencil Pouches in the future.
I recently also purchased a
Tom Bihn Side Effect
and a
Canon Vixia HV 40 high-definition camcorder
. What do these two items have to do with each other? Think accessories...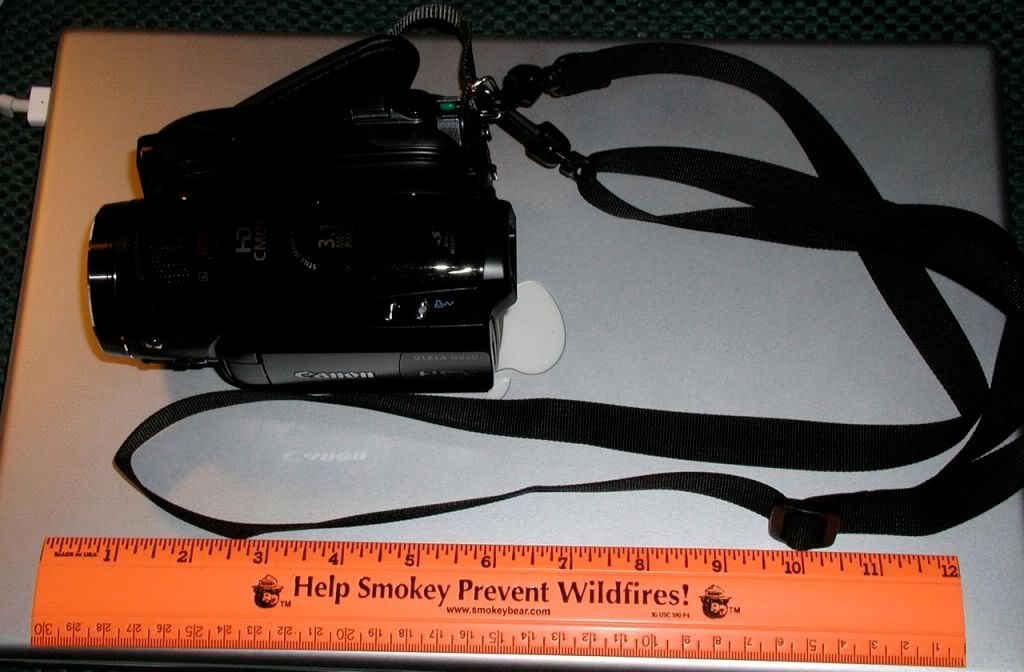 The Canon does not come with a neck strap. (Bummer!) So, I decided to improvise. The shoulder strap for my Side Effect was constantly in storage; I tend to use the Side Effect as a hip-pack, mounting it around my waist and situating it on my right hip. Because I never used the Side Effect's shoulder strap, and since the Canon came without a neck strap (but with a couple of metal loops on which to mount one) I decided to remove the shoulder strap from my Side Effect and use it as a neck strap for my Canon:
And there you have it: instant neck strap for my camcorder, free of charge!
The improvised camcorder neck strap works beautifully. It is aesthetically neutral, perfect for the task and lightweight. (The Canon is a lightweight camcorder, so they are a perfect match.)
Now on to some other accessories...
I just purchased and received two new
WaterField Gear Pouches
(small size) to carry some important cargo. And how are these relevant to Tom Bihn accessories? I needed a way to hang them in a Tom Bihn bag (I already own a Super Ego briefcase, and I'm 99.99999% sure I will also purchase a TB-branded backpack, the Brain Bag and the Smart Alec are both prime candidates) but WaterField does not supply any suspension accessories. They do, however, incorporate a tug loop onto the corner of every one of their Gear Pouches. See for yourselves...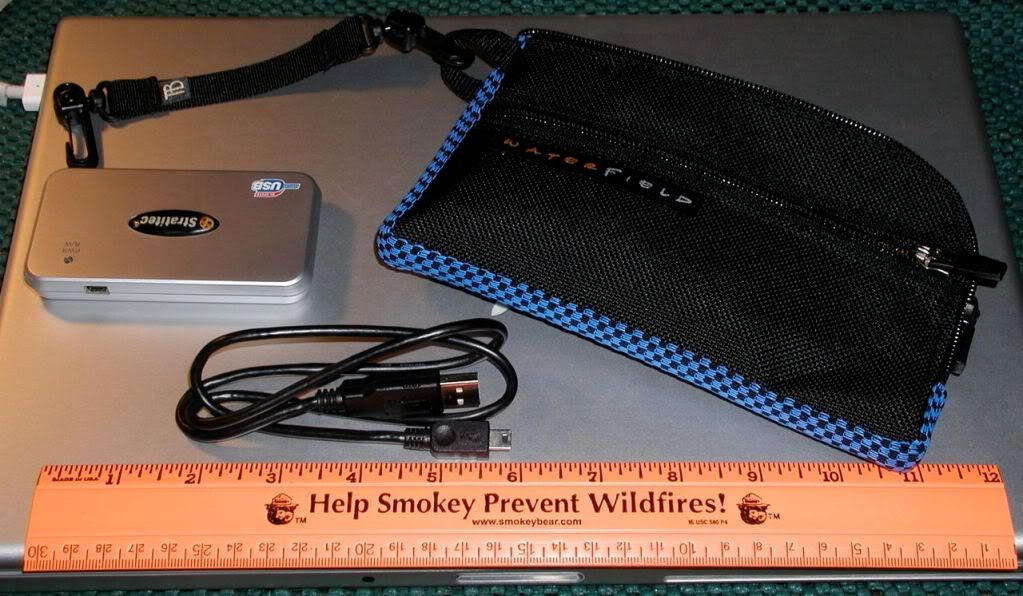 Here's a Gear Pouch with a blue-checkered stripe. I use it to carry a multi-format USB Camera Card Reader and cable. Note how I attached a
TB Key Strap
to the corner tug-loop.
And here's another Gear Pouch...
This is a yellow-checkered-stripe pouch (same size) that I use to carry my new
Olympus LS-10 digital voice recorder
and its accessories.
These Gear Pouches were ideal for the tasks I assigned to them because of...
the tug-loop allows for a Tom Bihn Key Strap to be attached, making it easy to hang these pouches in a Tom Bihn bag. (I already tried it in my Super Ego.) It took a minute or so to wiggle the loop into the Key Strap hook, but it worked.
each Gear Pouch has a main pocket, for larger equipment, plus a side-pocket for additional accessory items like cables.
the Gear Pouches come with checkered stripes in three colors: yellow, blue and white. This makes them easy to tell apart.
these Gear Pouches were ideally sized for carrying the items I assigned to them.
The only thing I don't like about the Gear Pouches is that I wish they had more outer padding to protect their cargo. But that's a minor thing. Both pouches are in use and are very handy.
That's all for now.