I had an opportunity to go on a short trip to Athens Greece
this month and I used that as an excuse to get a
medium cafe bag in olive/wasabi for the trip.
Awesome day bag that MCB!
My daily load was 2 cell phones, small cannon digi
camera, GPS, sunglasses in a clamshell, a flashlight
and some small misc crap.
This bag was super comfortable and super capable.
Here I'm having lunch at the rooftop cafe of
the Acropolis Museum. MCB in the shadow.
chatting with some street crime cops.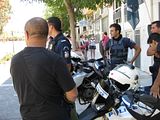 Thanks for looking.