And holy hell I am impressed. I didn't get to open this box immediately upon arrival as I had hoped. A combination of paycheck cashing, bank running, car having a catastrophic antifreeze blowout in the middle of the bank parking lot, errand running with my father and dinner time made me open the package 4 hours late. (Ignore the
craptastic
quality of the photos, I've forgotten how much this Fujifilm Finepix A330 sucks compared to my mother's Nikon DSLR, which is tucked away somewhere that I can't find. Also, apparently I've forgotten how to turn the flash off, so these are horrible. Sorry!).
The box is a little worse for wear, what did UPS
do
to it?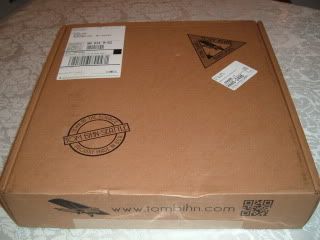 Inside the box everything is safe and unharmed (*cringe at the flash*)
I ordered a Large Organizer Pouch to go with and it came in this really nice browny/gray color. Is it linen?
The OP had a tiny flaw on it, a place where it looked like the nylon frayed a little. Since I don't intend on constantly taking the pouch out of the bag, this is fine.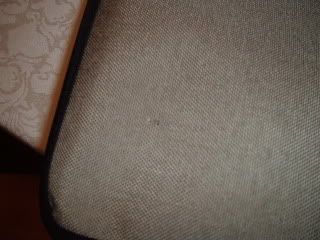 The two logos together (*cringe*)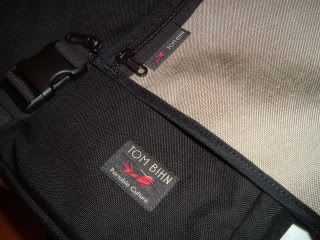 The pouch inside the bag. Wasabi is
beautiful
. Provides the right pop of color to an otherwise standard black bag.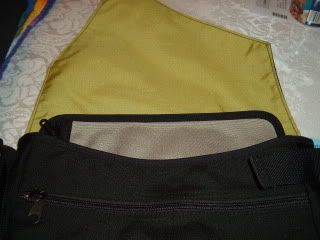 I packed the bag to the gills with what I intend to bring on its inaugural trip to the beach. We have, clockwise from the top, a free beach towel I got from work (on sale for $4.99, had a $5 off coupon so free!) LOP with original ipad in ipad case; swimsuit; licorice toffee (that...may not be coming with me); hairbrush; Sony MDR-NC-40 noise canceling headphones with first generation purple colored ipod shuffle engraved with my name on the back; reading material that fit in the back pocket (and that I got for about $5 because again, coupons!); sunscreen and in the center is my wallet.
Here is what it looks like stuffed to the gills. (Only the front view, the side view for some reason is coming out skewed).
I can tell that I'm going to love this bag already, but it's actually way too big for every day use. On my 5'0" frame, it goes from hip to knee, no lie. So this gives me the perfect excuse to order a smaller bag. :) The back pocket could actually fit a pair of flip flops if I scrunched them in there. Since my flip flops seem to have gone for a walk, I couldn't try.
*
And now, introducing my babies.
This is Sally, my old girl who
always
closes her eyes in every picture I take of her. We got her when she was a year old, a "free to a good home" newspaper ad. :( Sally is extremely soft, so soft that your hand glides over her satiny fur and her belly is just like velvet. However, she prefers to be left by herself most of the time.
This is J.J. aka Antoine. J.J. was rescued from a local shelter a few months after the tragic loss of Charlemagne, our boy beagle. I think J.J. was a former show dog (Ferland's Jay Jay is the official name on his papers). He was posted on craigslist, picked up by a family and then dumped at the shelter after one day because he couldn't stand the family's baby crying and he destroyed the house. We also think he was beaten for it, it took him nearly 3 months to stop cowering when I petted him, but he will run and hide whenever anyone raises their voice or picks up a stick-like object. J.J. is very much a people dog. He cannot get enough of petting, or love, or treats and will cling to you until you pay attention to him. His tail is constantly wagging.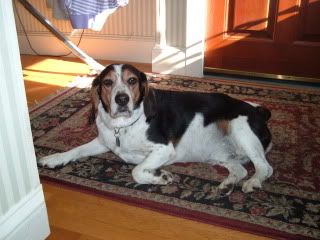 And that's it. :)